Supporting our Community
Marasco & Nesselbush is very pleased to support the fine efforts of select nonprofit organizations in our community who provide help, support, information and assistance to our clients and their families. Over the years, we are very pleased to have offered our support to many fine organizations, in recognition of the work that they are doing to improve people's lives throughout our state, throughout New England, and elsewhere in the world.
Marasco & Nesselbush is always looking for new ways to help our community.
If you have a charitable organization you would like us to support, please contact us for consideration.
Keep Your Head Up Walk
05/20/2017
Join us at Bristol's scenic 
Colt State Park
for the
Brain Injury Association of Rhode Island
's three mile Keep Your Head Up Walk, as we raise money and awareness for victims of brain injury and their families. Look for our walking team and be sure to visit our booth.  We'll be giving out snacks, beverages and fun freebies!  We hope to see you there. For more information, please click 
HERE
.
Marasco & Nesselbush Sponsors 'Keep Your Head Up 5k' & Starts Employee Health Initiative
Marasco & Nesselbush's commitment to quality starts with our staff. This spring we are starting a 'Get Ready for Summer Fitness Challenge.' Starting on May 6th and ending on June 23rd Marasco & Nesselbush, LLP employees are encouraged to take charge of their health and earn prizes for their efforts. Employees can earn points by completing the Workout of the week, attending weekly yoga classes, walking 10,000 steps per day, and attending any of the 4 fitness events that M&N is taking part in this spring, listed below:
Guided Hike at Goddard Park
Saturday, May 6 at 10:00 a.m.
BIA 5K Walk at Colt State Park
Saturday, May 20 at 9:00 a.m.
Kickball at Roger Williams State Park
Saturday, June 3 (time TBD)
Beach Volleyball at the Last Resort
Saturday, June 10
Proud Sponsors of Soujourner Houses' Sojo Mojoe Breakfast Fundraiser
Sojourner House hosted their 2nd Annual Sojo MoJoe Breakfast on May 12th at the Providence Marriott Hotel.
We heard from guest speaker, Eesha Pandit. Eesha is the Co-founder and Managing Partner at The Center for Advancing Innovative Policy (CAIP) and she specializes in working with a broad range of organizations, including community groups, national organizations, local and state leaders, coalitions, as well as funders to create innovative policy advocacy strategies that succeed in fostering progressive policy change and building vital connections across movements.
Photos and more information coming soon.
Marasco & Nesselbush Employees Raise Money to Support the Homeless
This holiday season our team donated $1000 to Crossroads Rhode Island, a local homeless shelter.
Learn more about how we raised the money in this blog article.
We are Proud Sponsors of Rhode Island Monthly's Top Docs Reception
Marasco & Nesselbush, LLP are proud sponsors of Rhode Island Monthly Magazine's Annual Top Docs Reception honoring the top doctors in our state.
Pictured are firm members: Jennifer Bettencourt, Ryan Kelley, Joseph Marasco, Anthony Buglio, Jane Duket, Tom Moran
Marasco & Nesselbush, LLP Celebrates 18 Years of Legal Work In New England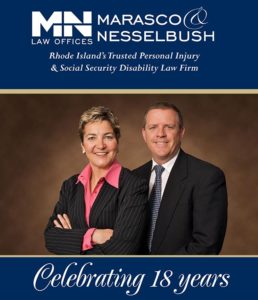 After 18 years, the same unwavering commitment to quality legal work and strong values propels the law firm into the 21st century. Our firm has served more than 20,000 clients to date, prides itself on quality legal work and delivering extraordinary results for each and every client. In April 1999, two law school friends, Joseph Marasco and Donna Nesselbush, joined as partners to form Marasco & Nesselbush, LLP with one legal assistant. Today, Marasco & Nesselbush, LLP has a legal team of more than 60 professionals including 15 accomplished attorneys. The firm has seven office locations in Rhode Island, Massachusetts and Connecticut to serve clients throughout southern New England.
"Marasco & Nesselbush is a special kind of law firm, a different law firm where people are always placed above profit and where all of our lawyers and bi-cultural staff are relentless in the pursuit of justice for our clients."
~ Donna Nesselbush
Marasco & Nesselbush history of the law firm
Organizations We Support
AIDS Project RI (a division of Family Services)
American Cancer Society
American Diabetes Association (RI Chapter)
Amos House
Armenian Relief Society
Arthritis Foundation (Northern and Southern New England Chapter)
Brain Injury Association of RI
Colombian American Cultural Society
Crossroads
DARE
GLAD
Gloria Gemma Breast Cancer Resource Foundation
Habitat for Humanity (Haitian Earthquake Relief)
Juvenile Diabetes Research Foundation International
Katie DeCubellis Memorial Foundation
Mental Health Association of Rhode Island
National Alliance on Mental Illness
Narragansett Council, Boy Scouts of America
National MS Society (RI Chapter)
Nuweetooun School and Tomaquag Indian Memorial Museum
Ocean State Theatre Company
Partners in Health (Haitian Earthquake Relief)
Pawtucket Red Sox
Progreso Latino
The Providence Center
Providence In-Town Churches Association
Rhode Island Association for Justice
Rhode Island Coalition Against Domestic Violence
Rhode Island Coalition for the Homeless
Rhode Island Pride
St. Joseph's Hospital Foundation
St. Jude Children's Research Hospital
Welcome House
West Broadway Neighborhood Association
Youth Pride, Inc.